All is calm, all is bright, those are the words that kept coming through my head over and over again Christmas Eve. As I walked out side and looked at the luminaries that my sons and I put out in front of the house, all was calm.
There has been a lot going on lately it seems and it is things that are not outside of the norm. Work, preparing for Christmas, Family obligations, etc. But in the midst of the chaos, life has not been calm lately, far from it to be honest. I feel that I'm worn down and in a difficult place in life.
And by difficult, I mean, life. Life has been life. Let's be honest, as parents, we deal with a lot on any given day. We have the stresses of work. We have the stresses of financial bills. We have the worry of knowing that we are putting our kids on a bus each day and trusting that someone other than us will protect them.
But in the midst of chaos of last week, I found a since of calm. I stopped all of the work issues for  a few days. I put aside all of the financial stress and worry, granted it is still there, but for last week, as we approached Christmas, life was ok.
As parents, we want to always do what is right by our kids. We put their needs first and ahead of our own. I will go with out in order to give my kids something that I did not have. I learned that lesson from my mother and though she will never told me all that she sacrificed, I know that she did. And I'm doing the same for my kids and no, I will not tell them either. Why? Because it isn't important.
So, Christmas Eve, after attending our old church for the early service and as soon as I walked in, I was at peace. Granted, that did not last very long, as Boy B wasn't happy that they did not have a children's service in his old class and had to stay with us. But never the less, I enjoyed watching the service on tv in the lobby of the church. Point being, even in the chaos of that moment, I was calm.
And as we got home, we started putting candles in the bags and lining them up on the street. This was a tradition that I had when I was a kid and it was something that I LOVED doing each and ever year. And for me as a kid, it didn't seem like Christmas until we did the luminaries.  And as we braved the cold and the wind and a few quick snow showers, we were able to light the street up in front of the house all the way to the front of our home. And then, all was bright.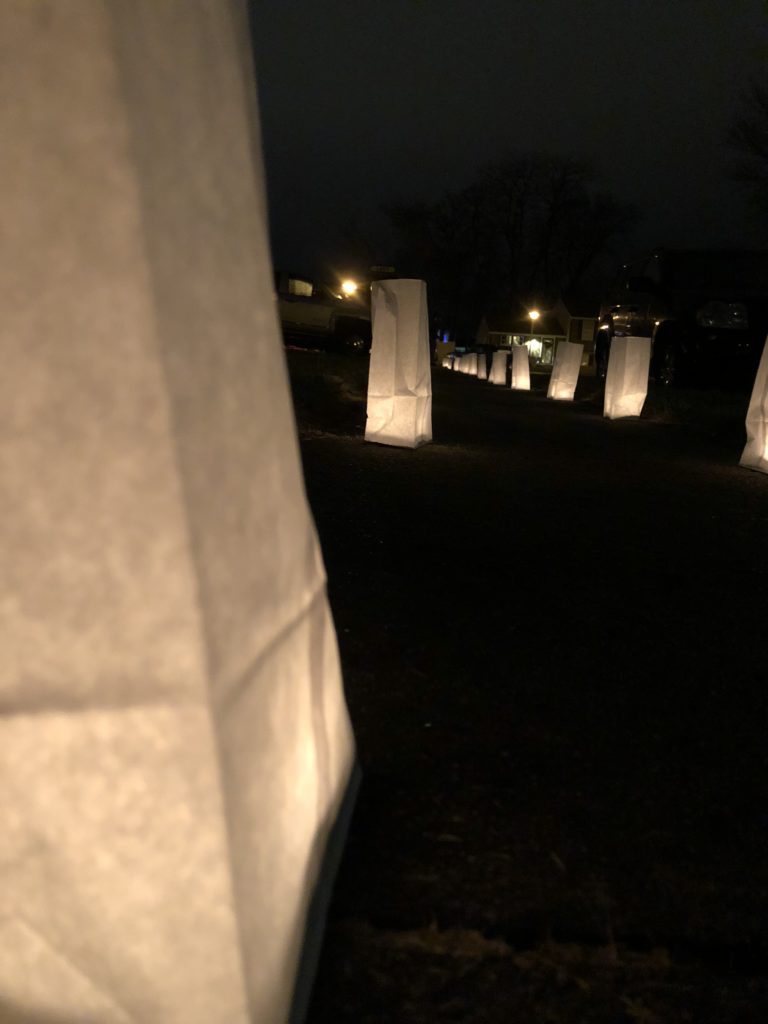 So, as I type this, the after Christmas, the calmness has subsided and chaos has returned. But I left the house this morning with two little boys laughing and playing with their new toys.
From my family to yours, I hope that you had a safe and Merry Christmas.